About Us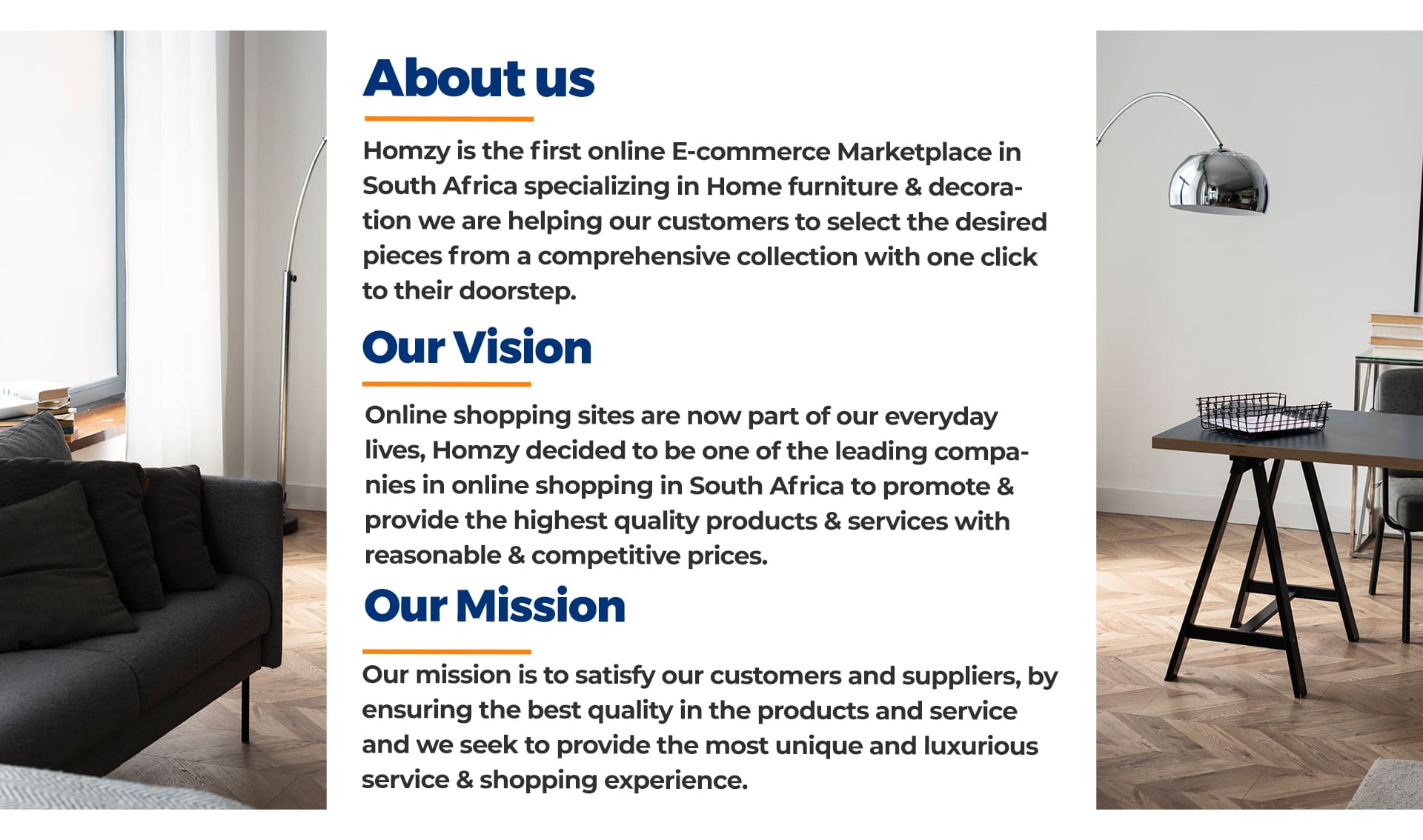 Versatile – choose from a wide variety of products.

homzy is a your online furniture shop with a large selection. With our wide range you can find trendy furniture, great favorite pieces, and interior inspiration in no time. Decorate your home with high-quality furniture, lamps, and home accessories in your preferred style. We offer contemporary furniture at unbeatable prices, as well as renowned brands, high-quality materials, and exclusive new brands. All of this, and much more, is available in our online furniture store





Simple - pay in the way you know how

With us, even paying for your furniture is enjoyable. Whether online with PayPal or a credit card (Visa, MasterCard), in advance or conveniently on account after receiving your furniture, lamps, or home accessories, you always have the option and must pay for all other items, including furniture, securely. You make the choice, and total security is guaranteed.



Safe – buy furniture relaxed.

In our online shop for furniture and other furnishings, you can shop safely at any time of the day or night. With us there is no closing time, no Sundays and no public holidays. Discovering new furniture and trends is possible with us around the clock. We are there when you have time and desire to browse. In addition, you always enjoy full buyer protection and data protection. A fair returns policy for all furniture, lights and accessories eliminates even the last doubts. If you have any unanswered questions, our support scores: Our customer service will support you with helpful answers about any questions you have anytime .





Unbeatable – we have the best prices.

Our furniture shop enables you to create a stylish interior for every budget. Buying furniture permanently reduced online with a discount of up to 40% - that's homzy. Numerous discount campaigns and sales offer you high-quality furniture, accessories and lamps at fairly calculated prices. Choose the furniture, home accessories and lamps that you like the most and look forward to real sensational prices. We prove that quality furniture doesn't have to be prohibitively expensive. Furnish yourself with branded furniture at a low price and let your dream home come true: homzy – your best online furniture store is at home!

Fast – delivered quickly, happy sooner.

With us you don't have to wait long for the delivery of your furniture, nor do you have to take care of the transport yourself. Many of our furniture and decorative items are ready for dispatch immediately or within a few days. After a short anticipation, our shipping service providers will deliver the furniture you have ordered, directly to your desired address - to your home, office or any other location within South Africa. If you want to return your items, our customer service will help you